Rapid interconnectivity growth will add complexity and risk
Recent geopolitical concerns, predictions of a looming recession, and continued supply chain difficulties are unlikely to dampen growth in digital bandwidth on private networks according to Equinix's 2022 Global Interconnection Index (GXI). Global interconnection bandwidth (the volume of data exchanged between companies directly, bypassing the public internet) is a barometer for digital infrastructure and sheds light on the difference in dynamics between verticals. High growth in private interconnection is a boon for Equinix as the world's largest colocation provider by market share but makes resiliency more challenging for its customers: all these interconnects are also potential points of failure.
The Equinix GXI projects strong growth across the industry in 2023, with global interconnection bandwidth projected to increase by 41% compared to 2022. Overall, global interconnection bandwidth is projected to grow by a compound annual growth rate (CAGR) of 40% into 2025, when it is expected to reach nearly 28,000 terabits per second (tbps). These numbers include direct connections between enterprises and their digital business partners (such as telecommunications, cloud, edge, and software as a service (SaaS) providers).
The Equinix study projects faster growth in private interconnection for enterprises than for networks operated by telecommunications companies or cloud providers. This growth in private interconnection is driven by high demand for digital services and products — many of which also require a presence with multiple cloud providers as well as integration with major SaaS companies.
The energy and utility sector is likely to see the greatest growth in private network interconnection through 2025, with a CAGR of 53%, as energy data becomes increasingly important for managing intermittent renewable energy and decarbonizing the grid. Digital services supporting sustainability efforts such as carbon accounting are likely to require additional private interconnection with SaaS providers to accurately track operational sustainability metrics.
The banking and insurance and manufacturing sectors are expected to see CAGRs of 49% and 45%, respectively, over the same period. These industries are particularly sensitive to errors and outages, however, and appropriate planning will be necessary.
There is a reason Equinix has been drawing attention to the benefits of interconnection for the past six years: as at Q2 2022 the company operates 435,800 cross-connects throughout its own data centers. Its closest competitor, Digital Realty, reported just 185,000 cross-connects at its facilities in the same quarter. Equinix defines a cross-connect as a point-to-point cable link between two customers in the same retail colocation data center. For colocation companies, cross-connects not only represent core recurring revenue streams but also make their network-rich facilities more valuable as integration hubs between organizations.
As private interconnection increases, so too does the interdependency of digital infrastructure. Strong growth in interconnection may be responsible for the increasing proportion of networking and third-party-related outages in recent years. Uptime's 2022 resiliency survey sheds light on the two most common causes of connectivity-related outages: misconfiguration and change management failure (reported by 43% of survey respondents); and third-party network-provider failure (43%). Asked specifically if their organization had suffered an outage caused by a problem with a third-party supplier, 39% of respondents confirmed this to be the case (see Figure 1).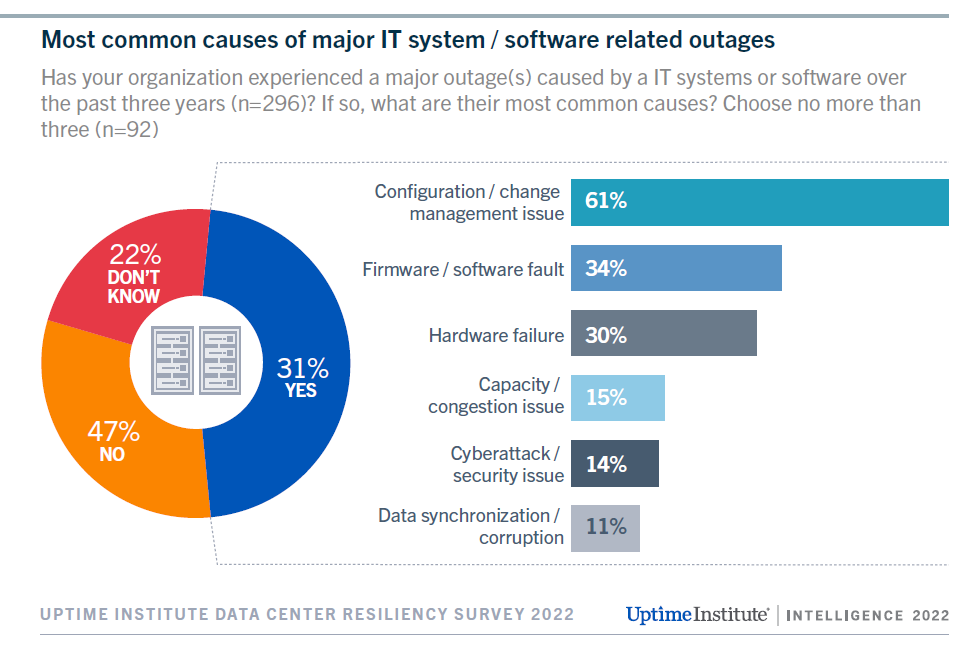 When third-party IT and data center service providers do have an outage, customers are immediately affected — and may seek compensation. Enterprise end-users will need additional transparency and stronger service-level agreements from providers to better manage additional points of failure, as well as the outsourcing of their architecture resiliency. Importantly, managing the added complexity of an enterprise IT architecture spanning on-premises, colocation and cloud facilities demands more organizational resources in terms of skilled staff, time and budget.
Failing that, businesses might encounter unexpected availability and reliability issues rather than any anticipated improvement. According to Uptime's 2021 annual survey of IT and data center managers, one in eight (of those who had a view) reported that using a mix of IT venues had resulted in their organization experiencing a deterioration in service resiliency, rather than the reverse.
By: Lenny Simon, Senior Research Associate and Max Smolaks, Analyst
https://journal.uptimeinstitute.com/wp-content/uploads/2023/01/Rapid-interconnectivity-growth-will-add-complexity-and-risk-featured.jpg
539
1030
Lenny Simon, Senior Research Associate, Uptime Institute
https://journal.uptimeinstitute.com/wp-content/uploads/2022/12/uptime-institute-logo-r_240x88_v2023-with-space.png
Lenny Simon, Senior Research Associate, Uptime Institute
2023-01-25 13:00:00
2023-01-23 16:43:45
Rapid interconnectivity growth will add complexity and risk