Cloud migrations to face closer scrutiny
Big public-cloud operators have often had to compete against each other — sometimes ferociously. Only rarely have they had to compete against alternative platforms for corporate IT, however. More often than not, chief information officers (CIOs) responsible for mission-critical IT have seen a move to the public cloud as low-risk, flexible, forward-looking and, ultimately, inexpensive. But these assumptions are now coming under pressure.
As the coming years threaten to be economically and politically turbulent, infrastructure and supply chains will be subject to disruption. Increasing government and stakeholder interest will force enterprises to scrutinize the financial and other risks of moving on-premises applications to the public cloud. More effort, and more investment, may be required to ensure that resiliency is both maintained and is clearly evident to its customers. While cloud has, in the past, been viewed as a low-risk option, the balance of uncertainty is changing — as are the cost equations.
Although the picture is complicated, with many factors at play, there are some signs that these pressures may, already, be slowing down adoption. Amazon Web Services (AWS), the largest cloud provider, reported a historic slowdown in growth in the second half of 2022, after nearly a decade of 30% to 40% increases year-on-year. Microsoft, too, has flagged a likely slowdown in the growth of its Azure cloud service.
No one in the industry is suggesting that the adoption of public cloud has peaked, or that it is no longer of strategic value to large enterprises. Use of the public cloud is still growing dramatically and is still driving growth in the data center industry. Public cloud will continue to be the near-automatic choice for most new applications, but organizations with complex, critical and hybrid requirements are likely to slow down or pause their migrations from on-premises infrastructure to the cloud.
Is the cloud honeymoon over?
Many businesses have been under pressure to move applications to the cloud quickly, without comprehensive analysis of the costs, benefits and risks. CIOs, often prompted or backed by heads of finance or chief executives, have favored the cloud over on-premises IT for new and / or major projects.
Data from the Uptime Institute Global Data Center Survey 2022 suggests that, while many were initially wary, organizations are becoming more confident in using the cloud for their most important critical workloads. The proportion of respondents not placing mission-critical workloads into the public cloud has dropped from 74% in 2019 to 63% in 2022. Figure 1 shows the growth in on-premises to cloud migrations, encouraged by C-level enthusiasm and positive perceptions of inexpensive performance.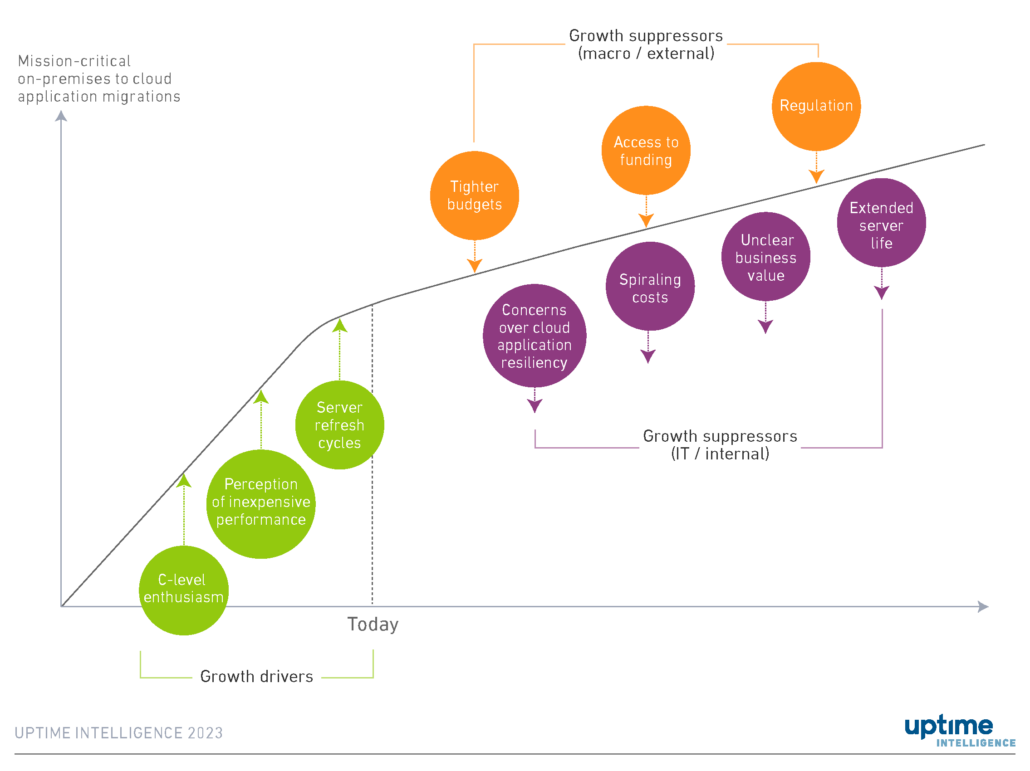 High-profile cloud outages, however, together with increasing regulatory interest, are encouraging some customers to take a closer look. Customers are beginning to recognize that not all applications have been architected to take advantage of key cloud features — and architecting applications properly can be very costly. "Lifting and shifting" applications that cannot scale, or that cannot track changes in user demand or resource supply dynamically, is unlikely to deliver the full benefits of the cloud and could create new challenges. Figure 1 shows how several internal (IT) and external (macroeconomic) pressures could suppress growth in the future.
One particular challenge is that many applications have not been rearchitected to meet business objectives — most notably resiliency. Many cloud customers are not fully aware of their responsibilities regarding the resiliency and scalability of their application architecture, in the belief that cloud companies take care of this automatically. Cloud providers, however, make it explicitly clear that zones will suffer outages occasionally and that customers are required to play their part. Cloud providers recommend that customers distribute workloads across multiple availability zones, thereby increasing the likelihood that applications will remain functional, even if a single availability zone falters.
Research by Uptime shows how vulnerable enterprise-cloud customers are to single-zone outages currently. Data from the Uptime Institute Global Data Center Survey 2022 shows that only 35% of respondents believe the loss of an availability zone would result in significant performance issues, and only 16% of respondents indicated that the loss of an availability zone would not impact their cloud applications.
To capture the full benefits of the cloud and to reduce the risk of outages, organizations need to (re)architect for resiliency. This resiliency has an upfront and ongoing cost implication, and this needs to be factored in when a decision is made to migrate applications from on-premises to the cloud. Uptime Intelligence has previously found that architecting an application across dual availability zones can cost 43% more than a non-duplicated application (see Public cloud costs versus resiliency: stateless applications). Building across regions, which further improves resiliency, can double costs. Some applications might not be worth migrating to the cloud, given the additional expense of resiliency being factored into application architecture.
Economic forces will reduce pressure to migrate to the cloud
Successful and fully functional cloud migrations of critical workloads carry additional costs that are often substantial — a factor that is only now starting to be fully understood by many organizations.
These costs include both the initial phase — when applications have to be redeveloped to be cloud-native, at a time when skills are in short supply and high demand — and the ongoing consumption charges that arise from long periods of operation across multiple zones. It is clear that the cost of the cloud has not always been factored in: a major reason for organizations moving their workloads back to on-premises from the public cloud being cost (cited by 43% of respondents to Uptime Institute's Data Center Capacity Trends Survey 2022).
Server refresh cycles often act as a trigger for cloud migration. Rather than purchasing new physical servers, IT C-level leaders choose to lift-and-shift applications to the public cloud. Uptime's 2015 global survey of data center managers showed that 35% of respondents kept their servers in operation for five years or more; this proportion had increased to 52% by 2022. During challenging economic times, CIOs may be choosing to keep existing servers running instead of investing in a migration to the cloud.
Even if CIOs continue to exert pressure for a move to the cloud, this will be muted by the need to justify the expense of migration. Despite allowing for a reduction in on-premises IT and in data center footprints, many organizations do not have the leeway to handle the unexpected costs required to make cloud applications more resilient or performant. Poor access to capital, together with tighter budgets, will force executives to think carefully about the need for full cloud migrations. Application migrations with a clear return on investment will continue to move to the cloud; those that are borderline may be put on the back burner until conditions are clearer.
Additional pressure from regulators
Governments are also becoming concerned that cloud applications are not sufficiently resilient, or that they present other risks. The dominance of Amazon, Google and Microsoft (the "hyperscalers") has raised concerns regarding "concentration risk" — an over-reliance on a limited number of cloud providers — in several countries and key sectors.
Regulators are taking steps to assess and manage this concentration risk, amid concerns that it could threaten the stability of many economies. The EC's recently adopted Digital Operational Resilience Act (DORA) provides a framework for making the oversight of outsourced IT providers (including cloud) the responsibility of financial market players. The UK government's Office of Communications (Ofcom) has launched a study into the country's £15 billion public-cloud-services market. The long-standing but newly updated Gramm-Leach-Bliley Act (GLBA, also known as the Financial Services Modernization Act) in the US now requires regular cyber and physical security assessments.
The direction is clear. More organizations are going to be required to better evaluate and plan risks arising from third-party providers. This will not always be easy or accurate. Cloud providers face the same array of risks (arising from cyber-security issues, staff shortages, supply chains, extreme weather and unstable grids, etc.) as other operators. They are rarely transparent about the challenges associated with these risks.
Organizations are becoming increasingly aware that lifting and shifting applications from on-premises to public-cloud locations does not guarantee the same levels of performance or availability. Applications must be architected to take advantage of the public cloud — with the resulting upfront and ongoing cost implications. Many organizations may not have the funds (or indeed the expertise and / or staff) to rearchitect applications during these challenging times, particularly if the business benefits are not clear. Legislation will force regulated industries to consider all risks before venturing into the public cloud. Much of this legislation, however, is yet to be drafted or introduced.
How will this affect the overall growth of the public cloud and its appeal to the C-level management? Hyperscaler cloud providers will continue to expand globally and to create new products and services. Enterprise customers, in turn, are likely to continue finding cloud services competitive. The rush to migrate workloads will slow down as organizations do the right thing: assess their risks, design architectures that help mitigate those risks, and move only when ready to do so (and when doing so will add value to the business).
---
The full report Five data center predictions for 2023 is available here.
See our Five Data Center Predictions for 2023 webinar here.
https://journal.uptimeinstitute.com/wp-content/uploads/2023/04/Cloud-migrations-to-face-closer-scrutiny-featured.jpg
539
1030
Dr. Owen Rogers, Research Director for Cloud Computing, Uptime Institute
https://journal.uptimeinstitute.com/wp-content/uploads/2022/12/uptime-institute-logo-r_240x88_v2023-with-space.png
Dr. Owen Rogers, Research Director for Cloud Computing, Uptime Institute
2023-04-12 15:00:00
2023-04-11 09:48:33
Cloud migrations to face closer scrutiny