Introducing Uptime Institute's FORCSS System
A new process to compare IT deployment options across both in-house and outsourced alternatives
By Julian Kudritzki and Matt Stansberry, Uptime Institute
Uptime Institute FORCSS™ is an original system to capture, compare, and prioritize the various impacts to the many IT deployment alternatives.
On an ongoing basis, enterprise organizations decide to deploy IT assets in an internal data center, colocation facility, hosting environment, or cloud solution. These decisions may not holistically view the financial, risk, performance, or other impacts. FORCSS enables the management of an enterprise organization to identify, weigh, and communicate the advantages and risks of IT applications deployment options using a consistent and relevant criteria based in business drivers and influences.
Since its inception, the mission of the Uptime Institute has been to assist the enterprise in devising feasible and adaptable data center solutions that are responsive to the business. Successful solutions align data center design, technology selection, construction, and operation to achieve high reliability. One of the leading challenges today is deciding the most viable IT deployment option.
FORCSS helps the enterprise to overcome this challenge by focusing on the critical selection factors, thereby reducing or eliminating unfounded assumptions and organizational "blind spots." FORCSS establishes a consistent and repeatable set of evaluation criteria and a structure to communicate the informed decision to stakeholders.
A coherent IT deployment strategy is often difficult because the staff responsible for IT assets and IT services across multiple geographies and multiple operating units are themselves spread over multiple geographies and operating units. The result can be a range of operating goals, modes, and needs that are virtually impossible to incorporate into a single, unified deployment strategy. And when a single strategy is developed from the "top down," the staff responsible for implementing that strategy often struggles to adapt that strategy to their operational requirements and environments.
FORCSS was developed to provide organizations with the flexibility to respond to varying organizational needs while maintaining a consistent overall strategic approach to IT deployments. FORCSS represents a process a) to apply consistent selection criteria to specific deployment options, and b) to translate the outcome of the key criteria into a concise structure that can be presented to "non-IT" executive management.
The FORCSS system is composed of six necessary and sufficient selection factors relevant to an effective deployment decision. These six factors, or criteria, provide a holistic evaluation system, and drive a succinct decision exercise that avoids analytical paralysis. FORCSS identifies the relevant internal and external input.
And, by scaling the importance of the criteria within the system, FORCSS allows each organization to align the decision process to organizational needs and business drivers.
FORCSS Factors And Their Definitions
The Uptime Institute FORCSS system is a means to evaluate deployment alternatives. Accordingly, it is crucial to have a working knowledge of the tangible or intangible values associated with the application being deployed. Tangible values are notably revenues and intangible end-user satisfaction. To be effective and lasting, FORCSS must involve the stakeholder requesting the IT deployment. In other words, don't lose sight of your client.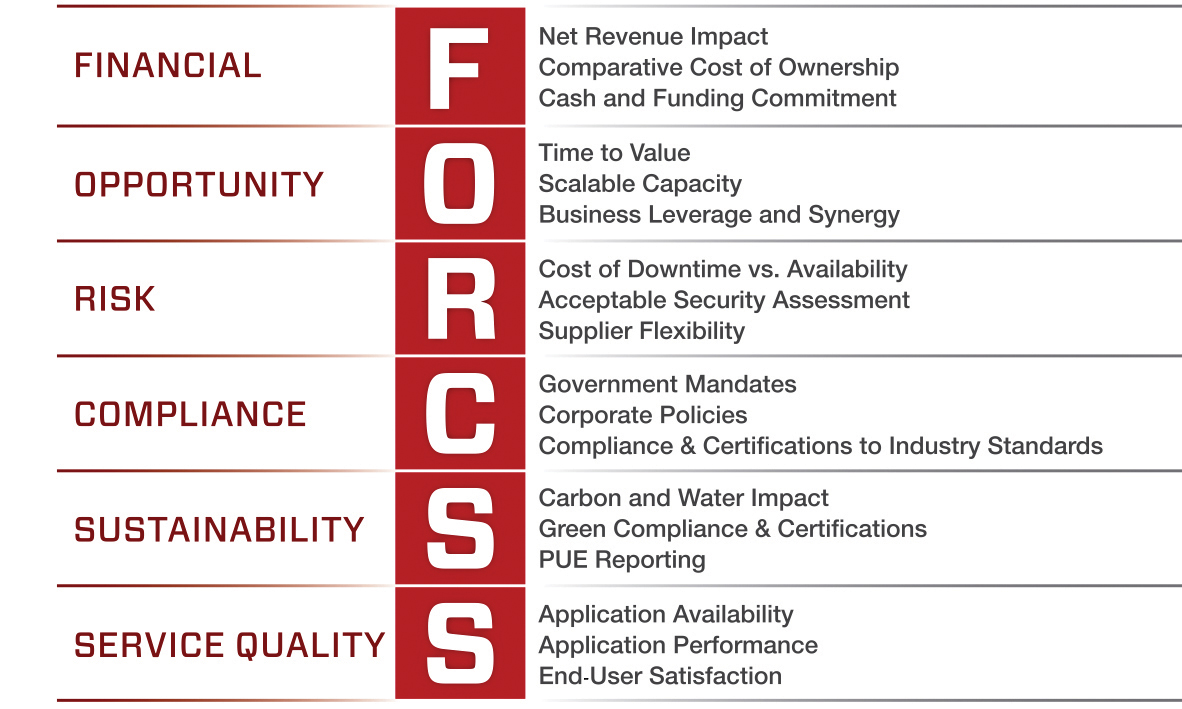 Financial
The fiscal consequences associated with deployment alternatives.
Net Revenue Impact: An estimation of gross profit margin—estimated revenues of IT service or application minus cost of ownership.
Comparative Cost of Ownership: The identified differential cost of deploying the alternative plus ongoing operations and maintenance, including the incremental cost of scaling the alternative as business grows. For example: Significant cost centers can include real estate development, MEP infrastructure, cost of financing, taxes, IT equipment, software license and customization, staffing, service provider and consulting fees. The most definitive cost information for each alternative is from a Total Cost Of Ownership (TCO) accounting protocol, for those few companies that have the capability to reliably determine TCO. Differential and incremental cost is often more directly determined.
Cash and Funding Commitment: Representation of liquidity—cash necessary at appropriate intervals for the projected duration of the business service.
Opportunity
A deployment alternative's ability to fulfill compute capacity demand over time.
Time to Value: The time period from decision to IT service availability. Timeline must include department deployment schedules of IT, facilities, network, and service providers.
Scalable Capacity: Available capacity for expansion of a given deployment alternative.
Business Leverage and Synergy: Significant ancillary benefits of a deployment alternative outside of the specific application or business service.
For example: Improve economies of scale and pricing for other applications. Or, geographic location of a particular site provides business benefits beyond the scope of a single application.
Risk
A deployment alternative's potential for negative business impacts.
Cost of Downtime vs. Availability: Estimated cost of an IT service outage vs. forecasted availability of deployment alternative.
Acceptable Security Assessment: Internal security staff evaluation of deployment alternative's physical and data security.
Supplier Flexibility: Potential "lock-ins" from a technical or contractual standpoint.
For example: Rating situations as simple, difficult/costly, or impossible to negotiate regarding software, hardware, site, and service provider commitments.
Compliance
Verification, internal and/or third-party, of a deployment alternative's compliance with regulatory, industry, or other relevant criteria.
Government: Legally mandated reporting obligations associated with the application or business service. For example: HIPAA, Sarbanes-Oxley, PCI-DSS.
Corporate Policies: Internal reporting requirements associated with the application or business service. For example: Data protection and privacy, ethical procurement, Corporate Social Responsibility.
Compliance & Certifications to Industry Standards: Current or recurring validations achieved by the site or service provider, beyond internal and governmental regulations. For example: SAS 70®, SSAE 16, Uptime Institute Tier Certification or M&O Stamp of Approval, ISO®.
Sustainability
Environmental consequences of a deployment alternative.
Carbon and Water Impact: Carbon and water use for given a site or service. For example: The Green Grid's Carbon Usage Effectiveness (CUE)™ and Water Usage Effectiveness (WUE)™ metrics.
Green Compliance & Certifications: Current or recurring validations achieved by the site or service provider, beyond internal and governmental regulations, of sustainable design and/or operations practices. For example: LEED®, BREEAM®, Carbon Credits, European Union Code of Conduct, U.S. EPA Energy Star®, and The Green Grid's® DC Maturity Model equalizer.
PUE Reporting: PUE is an industry-accepted indicator of a site or service provider's efficiency commitment.
Service Quality
A deployment alternative's capability to meet end-user performance requirements.
Application Availability: Computing environment uptime at the application or operating system level.
Application Performance: Evaluation of an application functional response; acceptable speeds at the end-user level.
End-User Satisfaction: Stakeholder response that an application or deployment alternative addresses end-user functional needs. For example: End-user preference for Graphical User Interfaces or Operating/Management Systems tied to a specific deployment alternative.
Using Uptime Institute FORCSS
This system was developed and validated by thought leaders in the enterprise IT industry to ensure
usefulness by those who inform senior-level decision makers.Many organizations already perform due diligence that would include most of this process. But the Uptime Institute FORCSS system provides the following:
A structure and a set of common definitions agreed upon by an elite group of data center owners and
operators from around the world.
A succinct and effective way to communicate recommendations to the C-level executives.
Uptime Institute believes the FORCSS system is sufficiently flexible and comprehensive to improve IT investment decisions.
Notes on using FORCSS:
Uptime Institute acknowledges that there are overlaps and dependencies across all six factors. But, in order to provide a succinct, sufficient process to inform C-level decision makers, categories must be finite and separate to avoid analysis paralysis. The purpose of FORCSS is to identify the business requirements of the IT service, and pragmatically evaluate capabilities of potential deployment options as defined.
Uptime Institute recognizes organizations will have unique business demands and priorities. Therefore, it will be necessary for each company conducting a FORCSS analysis to weigh each criteria according to specific business requirements. For example, most companies try to maximize data center efficiency. But, for a growing number of organizations, overall environmental sustainability of operations and supplier choices is a very public (therefore critical) aspect of their business. Organizations that put a high value on sustainability will weigh the criteria accordingly when applying FORCSS in their organizations. Other organizations may weigh sustainability at a low value, as inconsequential.
Uptime Institute is currently evaluating numerous concepts for FORCSS 'displays.' These displays will be graphical in nature, rather than a numerical score, to allow for evaluation of each factor within FORCSS and provide a visual comparison of one deployment alternative against another. Please visit FORCSS on the Uptime Institute Web site for the latest information and tools.
Uptime Institute's Unique Approach To FORCSS Development
In order to ensure the development of a well-rounded, thorough, and useful methodology, Uptime Institute facilitated a series of Charrettes. (A Charrette is a design process that brings stakeholders together at one time, in one place, as a group completing design tasks in a focused, time-limited effort.) The benefits of this approach are that the stakeholders begin with a common understanding of the design objective, share in the development process, and receive immediate feedback on the result of their deliberations.
In October 2011 the first Charrette was held, composed of peers within Uptime Institute and the 451 Group. The fundamental objective was to define the problem and assemble an original framework to be submitted at a second Charrette of key industry stakeholders. This initial work created the structure of a multiple-component solution, including business functions, facilities infrastructure, computing hardware, and applications performance perspectives.
Building on this foundational effort, in January 2012, Uptime Institute hosted over 25 hand-picked senior technology executives from large organizations across multiple industries at a second Charrette. Uptime Institute invited executive leaders at organizations whose decisions impacted international markets and brands and provided broad experience making decisions influenced by multiple factors and challenges.
This group edited and crystallized the original structure into six top-level criteria, or principal factors, that make up the FORCSS framework. Following the second Charrette, Uptime Institute identified three key components for each of the six top-level criteria to further define the FORCSS criteria, and presented the expanded system at Uptime Institute Symposium in Santa Clara, CA, in May 2012.
At Symposium, Uptime Institute reconvened the previous group of executives who comprised the second Charrette, as well as new end-user participants, for a follow-up Charrette on FORCSS.
Some of the new participants represented companies that had been in business for more than 100 years and plan to be in business another 100 years. Many of these organizations are at a strategic inflection point—do they modernize or minimize their IT infrastructures? The participants recognized the FORCSS approach as a means to improve confidence in decision making and avoid unintended consequences.
The third Charrette participants were tasked with vetting the expanded 18-point FORCSS process. The discussions and debate provided substantive insight resulting in changes to the components making up the six factors.
The majority of executives at the second Charrette reported consistent and enduring challenges within their organizations:
FORCSS Begins With These Steps:
Incomplete data when evaluating internal assets, such as data center capital costs that aren't included in
TCO calculations for IT projects, or lack of in sight into personnel costs associated with providing internal
IT services.
Lack of insight into cloud computing security, pricing models, and reliability data. Lack of credible cloud
computing case studies.
Inconsistency in reporting structures across geographies and divisions and between internal resources and
colocation providers.
Difficulty articulating business value for criteria not tied to a specific cost metric, like redundancy or
service quality. Difficulty connecting IT metrics to business performance metrics.
Challenge of capacity planning for IT requirements forecast beyond six months due to evolving
architecture/application strategy and shifting vendor roadmaps.
Difficulty collecting information across the various stakeholders, from application development,
corporate real estate.
The first step is to identify the new application workload to be analyzed. The process is designed to
evaluate a specific application workload against specific, existing assets or external resources (or in cases
where a new site or service may be considered, detailed evaluation of planned asset).
Identify and engage the decision maker or C-level executive who will sign off on the final project. Provide
background on FORCSS as a selection tool for winnowing deployment choices and eliminating blind spots
in an organization.
Identify senior management in adjacent divisions to assess the implementation being considered. No one
person will have sufficient insight into all areas of an organization. Be sure to include application owners
and users, facilities/real estate, IT operations, and any other stakeholders.
Set parameters for your application to determine the functional life cycle of the application or IT service
being analyzed in order to determine the value of the application, appropriate cost profile, and other
necessary attributes that ensure the viability of business solution.
Uptime Institute recognizes the many challenges in conducting a FORCSS analysis:
Getting buy-in and understanding of the FORCSS language across disciplines and at the C-level.
Avoiding inappropriate weighting of Risk or other criteria based on division bias.
Obtaining objective data on third-party service provider pricing and availability.
Also, many companies may be challenged by the subjective nature of some of the inputs or have difficulty determining the true costs and benefits of various projects.
The purpose of this timely initiative is to improve a company's investments and decision making, not to compare one company's decisions against another's. The way one organization determines the business value of an application or total cost of providing a service does not need to be the same as how another organization gathers those same data inputs.
A FORCSS analysis may pose tough questions without easy answers, but will help organizations make IT deployment decisions with confidence.
Julian Kudritzki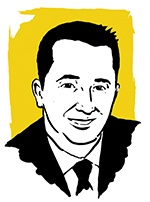 joined the Uptime Institute in 2004 and currently serves as Chief Operating Officer. He is responsible for the global proliferation of Uptime Institute Standards. He has supported the founding of Uptime Institute offices in numerous regions, including Brasil, Russia and North Asia. He has collaborated on the development of numerous Uptime Institute publications, education programs and unique initiatives such as Server Roundup and FORCSS. He is based in Seattle, WA.
Matt Stansberry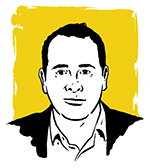 is Director of Content and Publications for the Uptime Institute and also serves as Program Director for the Uptime Institute Symposium, an annual spring event that brings together 1,500 stakeholders in enterprise IT, data center facilities, and corporate real estate to deal with the critical issues surrounding enterprise computing. He was formerly Editorial Director for Tech Target's Data Center and Virtualization media group, and was managing editor of Today's Facility Manager magazine. He has reported on the convergence of IT and Facilities for over a decade.
https://journal.uptimeinstitute.com/wp-content/uploads/2014/05/forcss1.jpg
475
1201
Matt Stansberry
https://journal.uptimeinstitute.com/wp-content/uploads/2022/12/uptime-institute-logo-r_240x88_v2023-with-space.png
Matt Stansberry
2014-05-16 03:51:10
2015-04-28 12:44:20
Introducing Uptime Institute's FORCSS System