Will high energy prices push operators to direct liquid cooling?
The data center industry and other large power-consuming industries continue to feel pressure from skyrocketing electricity prices. In Germany and France, wholesale energy prices this August increased six-fold compared to prices from 2021. The US has fared better, but wholesale electricity prices have doubled this summer compared with last year's prices.
While leased data center operators can typically pass on these higher energy costs to tenants, many IT service providers, such as web-hosting platforms and cloud data center operators, have seen their profits erode. High energy prices contributed to the bankruptcy of the UK division of colocation and cloud provider Sungard Availability Services in March 2022, followed by a bankruptcy filing for its US and Canadian operations in April.
A positive side effect of historically high energy prices is that investments in efficiency become more attractive. Industry-wide, power usage effectiveness (PUE) has been largely stagnant in recent years and cooling remains the largest source of inefficiency (see the Uptime Institute Global Data Center Survey 2022).
Direct liquid cooling (DLC) of IT hardware, while still relatively niche, can deliver significant energy savings for digital infrastructure. Even before the latest spikes in power costs, energy savings were already the top attraction for operators considering DLC. Uptime Institute's Direct Liquid Cooling Survey, conducted early in 2022, shows that two-thirds of enterprise respondents think cost savings are the key factor for organizations considering a switch to DLC (see Figure 1).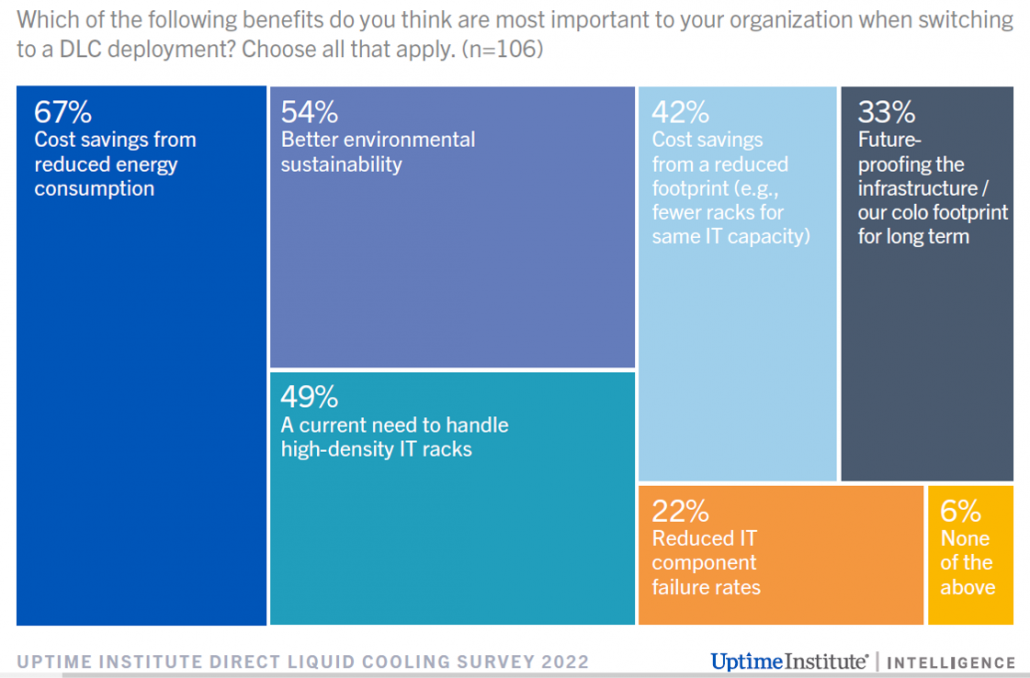 This is a potential shift in the adoption dynamics for DLC: for early adopters, high rack density was the major catalyst in moving away from air-cooled systems. The recent spikes in energy prices, however, may push an even higher proportion of operators to consider DLC as a means to reduce energy costs.
DLC enables efficiency gains for both the data center facility and the IT hardware. For facility cooling, DLC offers the potential to use less energy for mechanical refrigeration — or in some cases none, depending on implementation and local climate conditions. It also substantially lowers the volume of air that needs to be moved around the data hall, thereby reducing energy consumption from air handlers.
There are further efficiency gains to be made from powering IT hardware, through the elimination of server fans and the potential for lower static power losses in the silicon, by significantly reducing IT operating temperature.
These savings in IT power are nontrivial and difficult to quantify, but models estimate that they can be considerable — ranging from 10% to 20% of total IT power. Yet, despite the energy and cost savings associated with DLC, there are some key barriers to adoption that allow air cooling to dominate:
A lack of standardization for existing DLC technologies.
Concerns over coolant leaks and material compatibility, which limit the speed of DLC adoption.
Retrofitting existing data centers with DLC may not be economically sound unless the facility already uses a chilled water loop.
Racks need to be densified (typically above 20 kilowatts per rack) for DLC to be economically viable.
Sustainability is an additional key factor that is likely to drive DLC adoption this decade. Energy savings translate into reductions in Scope 2 emissions (from purchased, off-site electricity), which is a major focus for companies seeking to improve their sustainability credentials.
The combination of this commitment to sustainability and historically high energy prices for the foreseeable, means data center operators have an unprecedented and powerful incentive to improve their infrastructure efficiency, strengthening the business case for a shift to DLC.
https://journal.uptimeinstitute.com/wp-content/uploads/2022/11/Rising-Energy-Prices-featured.jpg
628
1200
Lenny Simon, Senior Research Associate, Uptime Institute
https://journal.uptimeinstitute.com/wp-content/uploads/2022/12/uptime-institute-logo-r_240x88_v2023-with-space.png
Lenny Simon, Senior Research Associate, Uptime Institute
2022-11-16 08:00:00
2022-11-08 15:09:24
Will high energy prices push operators to direct liquid cooling?